A New Addition To The Family!
What a crazy weekend! They say that the best pets kind of find you... and the latest addition to our family was no exception. I'd been moping around the house with no hamster to talk to since Wuffles passed away while I was in Toronto. Though I didn't miss cleaning the cage, it was strange not to hear little scurry noises outside my office and get up for a stretch break to see how "my fella" was doing. In those last few weeks of his life, Wuffles was actually in my office with me so that I could keep a close eye on him after his first stroke.
We headed out as a family to do groceries on Friday night before all the stores closed for Remembrance Day on the 11th. It was a ZOO!! We stopped into the pet store near Sobeys to have a peek and there was a batch of new grey dwarf hamsters that has just arrived from the breeder that day! I put my hand in to check gender (we've had better luck with boys) and they were all still hand tamed! I found one male, a cute little grey fellow with white paws, who seemed friendly enough, but Nick and I try not to make rash decisions. We decided to do groceries first, but that meant that the girls skipped along beside us, up and down each aisle, asking if we were going to get the little grey smudge of a hamster. It didn't help when Nick said it was all up to me!! That meant their entire energy was focussed on convincing me that we needed to bring this hamster home! I decided that we'd go back for a second look while Nick was loading the groceries into the car... and sure enough, we came home with SMUDGY! The girls thought that when he gets older and chubbier, we can call him pudgy Smudgy! (Groan!)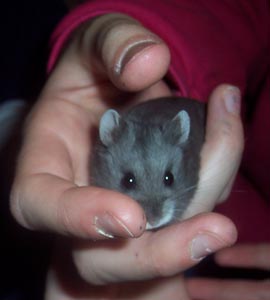 We left plenty of food and water out when we headed to Prince Edward Island the next day for an overnight stay with friends of ours. It was great fun to see them again and very hard to drag the kids away from playing with their friends for a noon departure, but Erin still had a major project to finish up back at home and I didn't want the newest family member to feel too abandoned! By mid-afternoon, I started feeling a little under the weather and have taken it easy today. There have been quite a few bugs and flu strains roaming around, so it didn't hurt to take it a bit easy on the third day of the long weekend. Nick went into work for a few hours, I proofread the last part of Erin's project and made sure that got done. My darling husband has taken them off to choir to give me a few moments of peace & quiet to get the blog done before another chaotic week begins. Thank goodness for that nap this afternoon and the companionship of a new tiny furry friend!