BEWIXT AND BETWEEN...
At first, dealing with all the chaos of the unexpected, I didn't know what to say...
Then, I wasn't sure of how much I wanted to share...
Then I just got caught up in taking one day at a time...
Suddenly, so much time had gone by that it became almost intimidating to think of how to sum up the last few months.
I guess the best place to start is at the beginning.
href="http://www.dragondreams.ca/blogphotos/eastertable.jpg">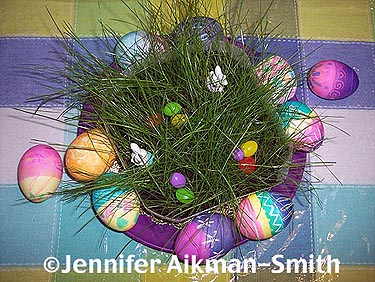 Right before Easter, I went in to teach 6 days of High School while my best friend took a much needed leave without pay to go on a cruise after completing her Master's thesis and producing the musical Jesus Christ Superstar at the school. I went in to teach Office Technology and Journalism classes for the person who replaced her as the Vice-Principal.
A day after she and her family returned, my friend's house was burned to the ground and her two cats killed in the blaze when a faulty propane tank on their BBQ exploded and destroyed their house in the ensuing blaze. As we helped them pick up the pieces of their lives, gave our godson a place to come when his parents needed to deal with all the chaos of sorting things out, the school decided that keeping me in for that teacher would offer the students a sense of consistency. Thus began over 3 weeks with one set of classes and then a variety that led to working 27 out of the last 38 teachable days!
Amid all this, Erin coped with the pinched nerve that caused the headaches, finished her volleyball season with another injury and is now waiting for the results of a mono test.
Bethany starred as one of the 2 lead roles in her school play at the District Drama Festival, finished Explorers, went off to a weekend camp and finished her 10 week preteen modeling course.
Nick has been wrestling with scheduling for next year amid one of the most ridiculous and insulting round of cutbacks to Education that our province has ever seen and trying not to rip his hair out. Thanks to the Liberal government here in New Brunswick, our schools will have less Teachers Assistants, almost no library time at any school as well as the highest number ever of split grade classes in Elementary schools as they fill each class to the legal limit to avoid paying for extra teachers. So much for the literacy-centred, quality education we were promised where our KIDS would come FIRST!
Despite the low teacher morale, I have indeed LOVED working with kids of all ages as a substitute teacher. I have taught one out of every 3 possible days so far this year, which has been way more than I expected to. After almost 2 years of juggling things around with the ebb and flow of cross stitch income, it has been really wonderful to bring in more income... but that can also become a temptation and trap unto itself.
The whole point of choosing supply teaching was to work a certain number of days a month and then devote the rest to illustration and designing...
Instead, it has been so easy to say yes to extra teaching and extra income instead of taking risks and sending work off to publishers.
Time and time again, I ask myself WHY it is easier to get busy at other things instead of allowing myself to be vulnerable.
Maybe I've become just as conditioned as the rest of our society to want everything FAST!
Some tasks need to be done slowly and properly if they are to accomplish what is needed.
See this junk? All of it came from our shed beside the house which hadn't been properly sorted in 4 years. Victoria Day weekend, we took EVERYTHING out... even the dust and spiders. (I swept the dust, Nick handled the spiders)
We even had people stop at the end of the driveway to see if it was a yard sale only to leave disappointed.
4 hours, 2 runs to the dump and one run to the Salvation Army drop-off, we had a shed again.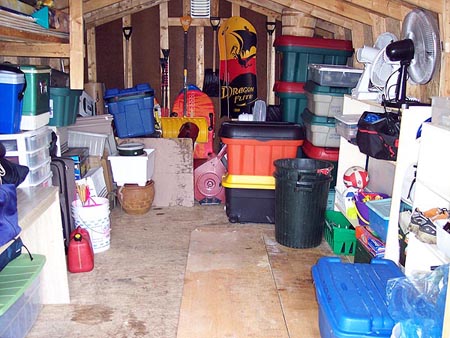 Nick teased me for being way too OCD after labeling one set of drawers, but I smiled ever so sweetly and reminded him WHO bought me the labeler! In celebration of having a tidy shed and burning off all the calories moving stuff around, we went for the first Ice Cream Cone of the season as a family.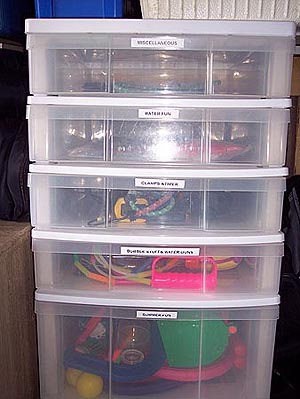 Now begins the transition into school closing activities, Grade 8 graduation ceremonies, piano recitals, Church picnics etc. I am learning to celebrate little moments and not take them for granted. Do you want to know how cheap lobster was here for Mother's Day or does my grin say it all?? (Cooked lobsters were $6.99 a pound! Whooo Hooo!)
Somewhere along the way, I need to think ahead to the fall and remember that I wanted this to be about balance instead of just diving into something to the oblivion of everything else.
It just goes to show you that even after school gets out, you never stop learning!