Fathers - Roots And Wings
Happy Father's Day to all the Dads out there!! Today is always a time for me to be reflective... because it was on Father's Day, the year I turned 12, that I learned my parents would be getting a divorce. At the time, I couldn't imagine what that would be like and when my father moved to Hawaii almost 6 months later, it felt like the ends of the universe. Then, when we visited the following summer, I learned that it is possible to love long distance and to feel that bond between parent and child no matter how many miles lie in between.
My Dad gave me the ability to dream impossible dreams, to seek out adventures and new experiences, to love traveling to new places, to devour books and wonder about life in galaxies far, far away. He taught us how to sing in harmony, laugh until we cried, adapt to new places, play video games really well and how to be proud of being so tall. Despite the miles that lie between us even now, he's in my thoughts and heart more than he realizes sometimes.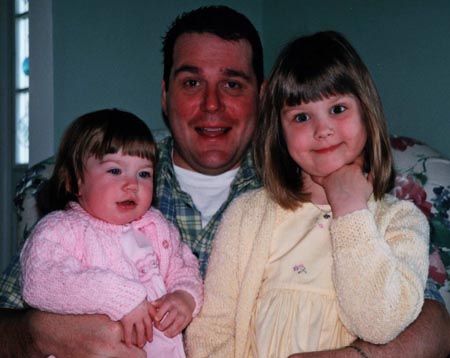 As a young woman, I met a man and fell in love more deeply than I ever thought possible. As we thought of a life together, one of the most important qualities that I was looking for was not only someone who would be a real partner, but also someone who would be a good father if we had kids. In Nick, I found someone who not only takes an active role in raising our daughters with me, but also someone who has shared laughter and made memories with them that I know they will look back on and treasure for many years.
Nick has given Erin and Bethany roots with his stability and wings with his ability to help them tackle any challenge while learning to rely on their own skills as well as our love and support.
I also met Nick's father, Ken, who had a large hand in shaping the kind of man Nick became. Like me, Nick parents also divorced and found other people to fall in love with. In the end, I think it only gave us more family to love.
Nick and I love our own fathers very much, yet into our lives also came two other very special men. John and Jerome taught us different things from our own fathers without replacing them. They have shared their wisdom, skills, music and other talents wth us and with our girls.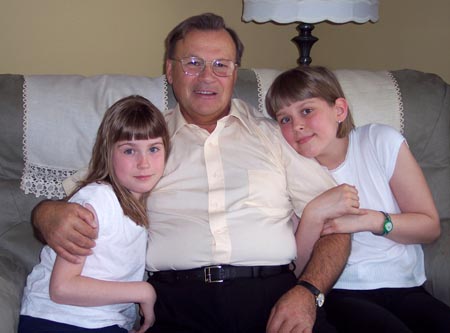 Erin and Bethany don't see anything odd about having 4 special men to call on Father's Day, they just think they are lucky to have BobDoc, Grampy Ken, Grrr and Papa as their grandfathers.
Finally, I am also lucky enough to have my Grampy still alive at 94! From him I learned the beauty (and the agony) of a well crafted limerick, an appreciation for fine art and good wine, a love of two languages, how to sit up straight, which forks to use at a fancy restaurant, how to sink a putt, how to capture moments in a sketch and how to argue my point of view in a lively debate.
To all the special men in my life, I thank you for the many ways in which you have enriched my journey, added to my adventures, nourished my spirit and given me either roots or wings. Happy Father's Day!