Hot Off The Press!
I meant to try to get these photos and blog entry up Friday, but my camera was acting a bit feisty and I didn't have time to play with it until this morning...
The book is printed!!! YAY! Hurrah!!!
I went in on Wednesday to check final proofs and see things as they came of the press. When you go out back, you have to slip on these little steel toe shoe cozies in case anything big and heavy tries to fall on your toes. The dragon is all for protecting her tootsies, but these are just plain UGLY! They also make a funny click, click sound and dragons are very fond of being able to sneak up on things!
The proof area at the end of the large press has this HUGE full spectrum light. I kept wondering how much it would cost to put one in my studio or stitching corner, but definitely out of reach of this dragon. My pile of gold that doesn't go for mundane things like groceries, gas and bills just isn't big enough!
The way they match the colours to the Epson proofs and check ink saturation was really neat, but neater still was holding one of the sheets right after it came off the press. I didn't even get messy paws from handling the ink!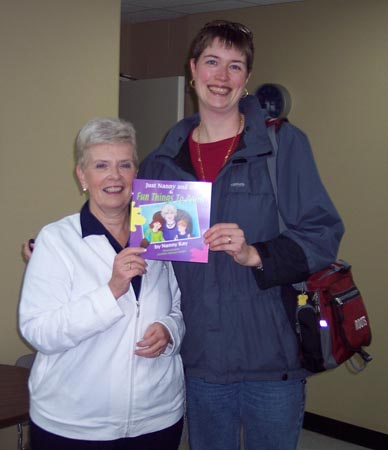 Friday morning, Kay and I went to pick up the final books, all trimmed, stapled, and packed up in cases. We asked the sales rep to take our picture holding up a copy of the book. Isn't it strange how everyone ends up looking so short when they stand next to me?? One of the things I love about my family is that we are all in the same scale. One of the girls said to Nick once... "You give Daddy hugs in OUR size!"
I took all of the extra cases down to my self store so that they could make friends with my cross stitch leaflets because the author lives in a fairly small apartment and was wondering where on earth she was going to store the overflow. Having been through the "my business is taking over the family home" dilemma already, I had the perfect place to store the extra books. It was a great workout lugging all those boxes from the printer's to the van and from the van to the self-store, but the extra burst of adrenaline when a huge spider scuttled out from the back of some boxes to check me out gave me a super burst to finish the job.
I can't wait for the official Book Launch on Wednesday night. It is just TOO COOL to hold the book in my hands at last!!!