Back To Reality... and it's only taken me 3 days to blog about it!
There's nothing like being away from it all to make coming back to reality a bit harder than usual!
Retreat was WONDERFUL! Nick drove Mom and I, with all our bags, up to Camp Wildwood on Friday night having left the girls with their grandfather, 2 pizzas to bake and some movies to watch. Friday night is always fun as stitchers stake their claims, set up their circles of chairs and pull out a project to work on that isn't too hard on the head.
I decided that I was going to PLAY for this year's ornament exchange. I'd been into Because You Count to pick up a wonderful array of buttons from Just Another Button Company. Here's what I picked out: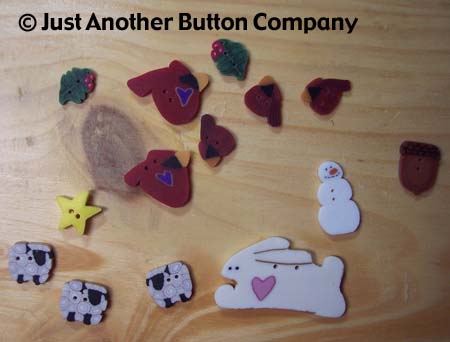 I got out some fabric and just started to stitch, designing as I went. They fed us snacks, we got caught up on all the news and I just settled in to enjoy myself. Whenever I got uncomfy, I just got up and walked around a bit.
Saturday morning, we woke up to SNOW! Mother Nature decided to gift us with a little dusting of snow to put everyone in a holiday mood. We had breakfast and some of us drove off to a tiny local craft show. I bought a pair of wool socks to keep my dragon toes warm, some wonderful tole painted items and two Holiday pins made out of FIMO.
Once we got back to retreat, I taught my mother how to cross stitch. Most people were amazed that I hadn't taught her before this...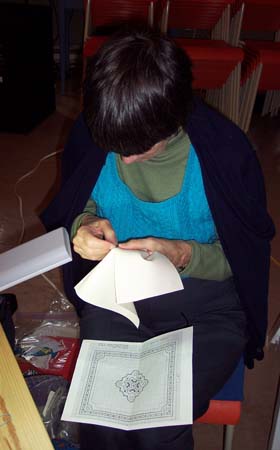 I also autographed a few copies of Santa's Dragon...
One of the ladies had made up stitching accessories to sell with an incredible variety of fabric. This one called to me. Is this my Mission Statement or what??
After working on my ornament for the rest of the morning, I needed a change. I pulled out the amazing Dragon Needle Felting kit that I bought at the CreativFestival in Toronto a few weeks ago created by Wendo van essen. Here's how my dragon took shape...
First, I bent the wire and the pipe cleaner as the instructions told me to.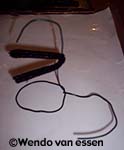 Next, I began to add the coloured fibre (wool fluff) around the wire to make a bit more of a dragon shape. Using an INCREDIBLY SHARP needle, I began to poke in and out of the fluff to turn it into felt. Is is a FUN sensation. Because of the little grooves in the Felting needle, you can almost feel it crunching as you poke into the fluff. The needle pulls out clean and then you stab it back in again. Wendo thoughtfully provides a piece of foam in the kit so that there is usually something between the fluff and your body parts to stop any over exuberant stabs through the fluff. USUALLY being the key word. Did I mention that the needle is very, very SHARP?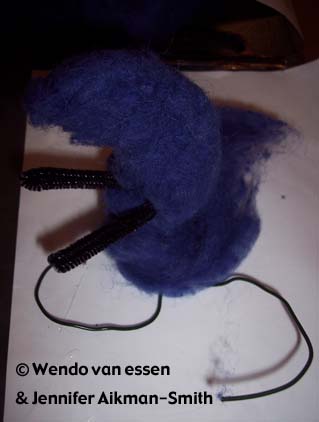 Slowly, but surely... my dragon began to take shape.
I had one moment of panic when he started to bear a slight resemblance to a purple dinosaur that used to be very popular in our household....
Adding the scales down the dragon's back was fun!
Stitchers kept drifting over to see what I was up to or to check on my progress. One of them snapped this photo for me.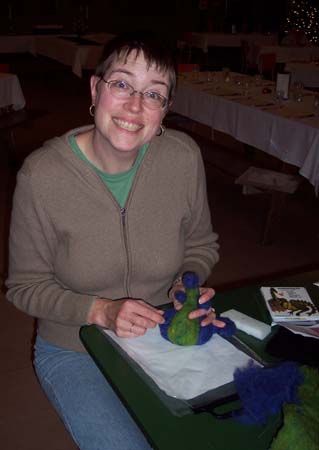 I tried to zoom in here to show you the needle, but it was mostly hidden by my hand. I'm probably not demonstrating the proper grip... but anything that lets you stab fluff without hitting your own flesh is probably a good grip!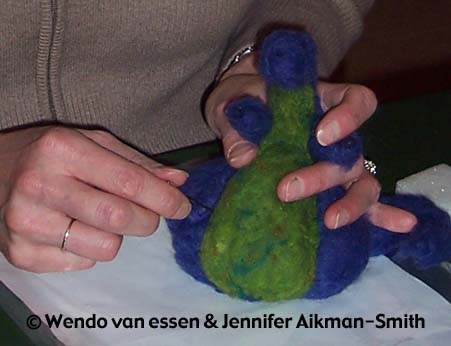 Wendo does a great job of describing how to make the feet and hands for your dragon out of separate pieces. Mine ended up with less toes on each foot than her version, but each dragon is unique.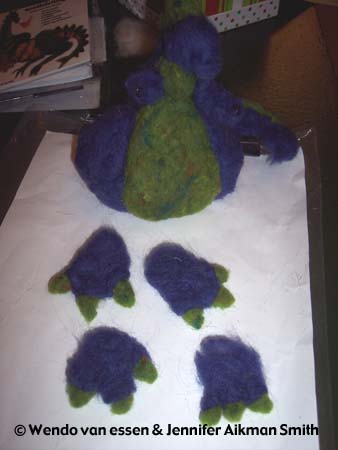 Her red dragon looked nice and fierce on the cover of the kit, but in the end, mine ended up looking very cute, cuddly and quite bottom heavy...
Meet BUDDY!
If you feel the need to felt a dragon of your own, just drop by
Wendo's Website
!!
I also managed to finish my ornament for the exchange the next day and decided to call it "Snowy Wait". The chart and instructions will be on our website (accessed through the newsletter) in December.
Sunday morning, we woke up to even more snow. Maybe calling my ornament "Snowy Wait" wasn't such a good idea!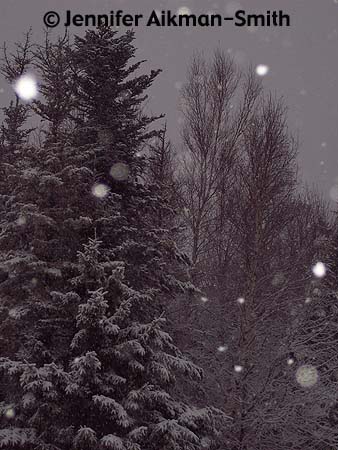 A fire was lit in the main hall and we all just curled up with our projects after a brief worship service. We paused at the eleventh hour for a minute of silence in honour of our veterans and recited the poem "In Flanders Fields" together.
Here's a picture of Mom with what she got done on her dollhouse rug over the weekend... not bad for a first time stitcher! She's MUCH faster than me!
We held our ornament exchange and had our last meal together at lunchtime. Here's Elizabeth, who has run the retreats all these years, beside the tree before the ornament exchange.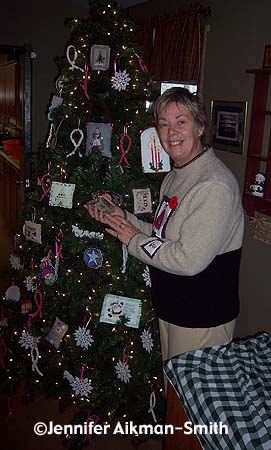 As soon as lunch was done, stitchers began packing up to head home on the snowy roads. The circles disappeared, the bits of floss and fluff were swept from the floor and we all headed back to reality.
Sorry that it's taken until this afternoon to post about my adventures. I can already find myself dreaming about the next retreat!