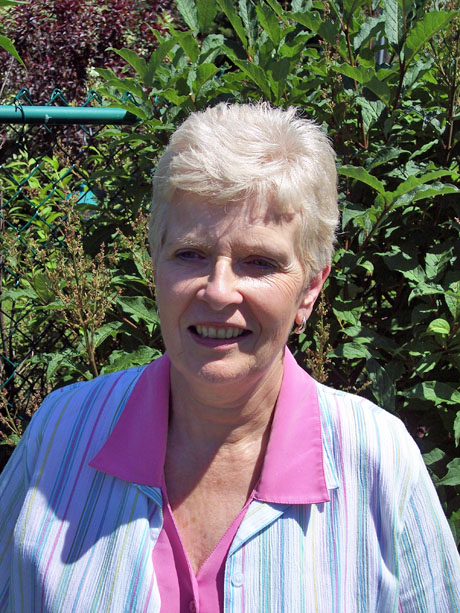 Saying Goodbye to Nanny Kay...
It's sad when an author dies before all of their stories get told.
When Madeleine L'Engle, Marion Zimmer Bradley and Andre Norton each passed away, I felt a keening sense of regret that there would never be a "new" story to look forward to. Having reread most of my Andre Norton collection early this year , I know that I can still treasure the works that they shared with the world over and over and over... but it's still not quite the same.
I found out in January that Nanny Kay had been diagnosed with an aggressive form of cancer. After my own health fears all fall, I could imagine the disbelief she was feeling. Sadly, the cancer won the battle on Monday night.
Yesterday, I went to the funeral home to say goodbye to the woman who helped set my feet on their current path and to tell her family how much she meant to me. It was very hard.
On the kneeler before the coffin were the two books that she had written, the second of which I had the privilege of illustrating.
I met Nanny Kay at "STORYFEST 2006", an enrichment event put on by our local school district. I'd been called in at the last minute to help chaperone the group of students from Queen Elizabeth (including Erin) because I had a "flexible" work schedule. I almost refused to go. I dreaded being around authors and illustrators who had actually gone out to do what I had only dreamed of doing since I was 11 years old. I was using my art, I'd built an international reputation as a cross stitch designer over 13 years, I worked from home to be there for my kids, but I'd never gotten around to that which I wanted most... to illustrate children's books.
During the course of the day, one of the presenters mentioned that author Kay Doucette, known as Nanny Kay, was having trouble finding someone to illustrate her second children's book. I met up with her, introduced myself and gave her my business card. Within a few days of looking through my portfolio and some rough pencil sketches that I drew up, she'd hired me to draw the illustrations for
Just Nanny and Me & Fun Things To Paint
. For 10 weeks through a hot summer of trying not to sweat on my artwork, I drew at our dining room table and we put the book together for its release in September of 2006. The following spring at "STORYFEST 2007", I was there as guest presenter doing an illustration workshop.
Had it not been for Nanny Kay hiring me and encouraging me, I might never have actually chased the dream of illustrating children's books. It would have been so easy to avoid trying what I wanted most ... in order to not fail at something that would hurt deeply if I didn't succeed. I might never have learned all the technical things that made putting together
Owen & The Dinosaur
so much easier.
Sometimes, there are special people who come into our lives for a reason. We may not understand it fully, or appreciate it as much as we should, but we certainly feel the loss when they leave. Goodbye Nanny Kay.