Best of Times...Worst of Times...
When it comes to opening lines for novels, one of my favourites has always been from Charles Dickens
A Tale Of Two Cities
which begins "It was the best of times, it was the worst of times..." How that has summed up this summer.
Our family visit to PEI was one of the highlights. My brother and his family jaunted over from Switzerland to join my Mom, my stepfather and our family in a 100 year old farmhouse right by the ocean.
We collected seashells, built a mermaid in the sand, boiled our own lobsters and made lots of family memories.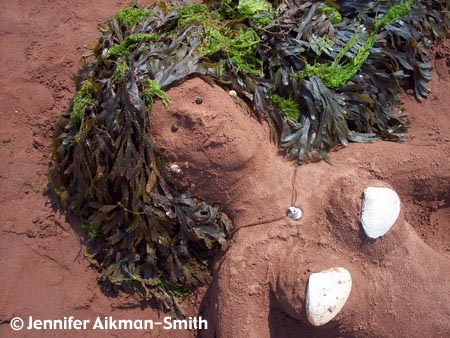 But somewhere along the line, I got bit by a few things...
And then things got a little dicey...
Thank goodness for modern medicine, potent antibiotics and bed rest! I have my ankle back, but we're still running tests for a few things because deep down inside, I just don't feel quite right or back to normal. I'm also having problems with my hands that has made drawing, typing and stitching very painful for the past few weeks. A scary prospect for an artist to say the least. It may be a left over reaction to one of the anti-inflammatories that they tried to bring the swelling down on my ankle... or the strong antibiotic.
Life marches on however and today the house is blissfully silent as everyone else is out the door for a few hours. I finally have the time, the energy and enough nimbleness of finger to blog again and try to catch up on e-mail.
First of all, thank you for the kind messages that flooded my inbox. Nick tried to keep ahead of downloading them for me when I found it hurt to hold the mouse. I'm sorry I kept silent and worried you, but for a few weeks there... I wasn't sure what I was going to have to say. "The dragon's foot needs surgery" or "The dragon's claws aren't working anymore..." were both incredibly scary prospects to even think about, let alone write about. But it did give me time for a lot of thinking.
Creativity is not just something that we celebrate with our hands... though that is one of the funniest ways to do so in my opinion. It also comes from our heads, our hearts and our lives.
I am still struggling with the codes to get the website to do what I want for the new look (partly because spending any great length of time on keyboard or mouse is still a bit hurt) but it is getting there. I am hoping that things will be ready after Labour Day, so one month late isn't too bad. I know it will be a bit of a surprise for everyone to see the changes and to learn how Dragon Dreams is evolving a bit, but I think you'll enjoy some of the fun!
In the meantime, I'm going to try to blog in small burst and start sharing new with the world again. Thanks for all the sympathy and patience!