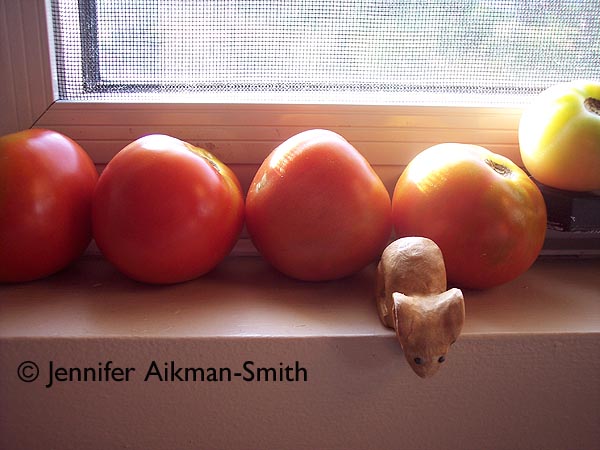 Waiting...
I finally pulled all my tomatoes off a few nights ago because we were getting frost every night and yesterday the temperature soared to over 27 degrees (around 80) which is almost unheard of this time of year! Still, they are ripening rather nicely on my window sill along with my little "Computer Mouse" carving that needed one ear mended with a bit of glue. That got me thinking about how we sometimes find it hard to wait until things are ready.
I had a great time launching Santa's Dragon on Tuesday. Because You Count (our LNS) was packed and I got great hugs from SuperBeth and her husband, Doug, from Lori-Ann who is starting to share her own unique vision and designs with the world, from some of my favourite Retreat friends and of course from the whole caravan of stitchers who were on Sue Hillis's fabulous stitching cruise! It was a fun day, but I totally forgot to bring my camera! Bad Dragon! Most people seemed to really like the design, so I hope it was worth the wait. It feels awesome to have the design out at last, even if I did have to correct a Dragon Oooops on the first batch of chart packs. I'd copied the back page from another pattern to get the layout right and the only thing that didn't get replaced correctly on the back was the STITCH COUNT! Yikes!! Luckily, I'd written a blurb underneath about how stitchers needed an 18 x 24 inch piece, so Wanda from BYC came over to ask me why I was giving them so much extra fabric. She's calculated things from the stitch count and caught the mistake. I hand corrected all the ones that had been purchased and put a "Dragon Oops!" beside them, so maybe that will make them collector's items? LOL!
Yesterday was another rough day in terms of pain, so I tried to just do my work in fits and starts and wait for things to calm down a bit. Then I got a phone call from the specialist my doctor had referred me to and I am going for a first consultation today! Hurrah! I'd been warned that the wait could be weeks!! I really don't care how much they have to poke and prod, I'd just like to get this figured out!
For now, I'll just head upstairs and put the finishing touches on the rough book dummy for Owen and the Dinosaur because I meet with the author tomorrow morning. We should know by then whether or not the book will be 20 inside pages or 24.
Hmmmm... Two of those tomatoes finally look ripe enough to add to my salad at lunch! Yumm!